Connecting Blockchain and Sustainable Development — In the Real World
This is a featured post from our partners and friends from the GIZ Blockchain Lab, the blockchain entity of the German development agency. Read the original article on Medium.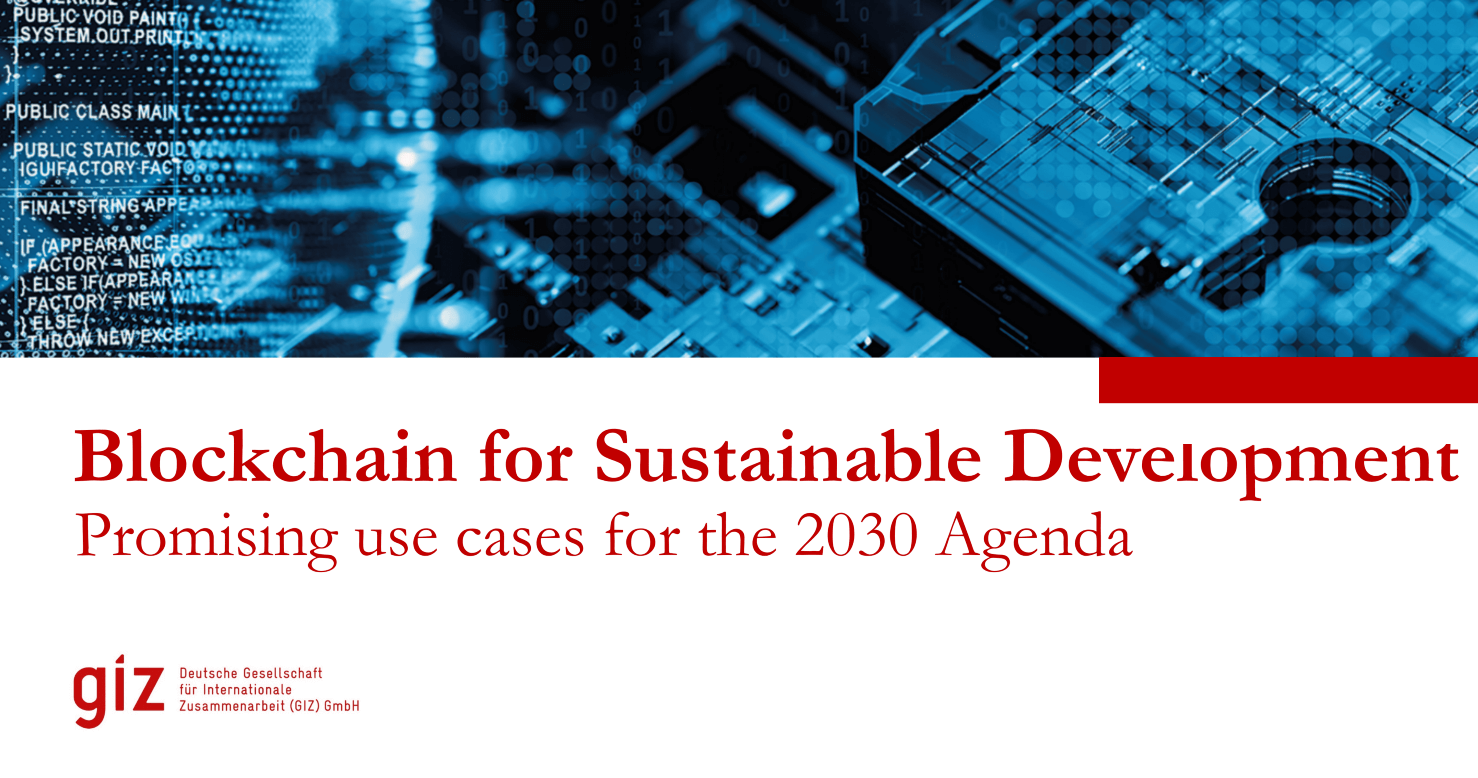 It's September 2015. Representatives from all member states of the United Nations gather in the general assembly and sign possibly the most ambitious UN resolution the world has seen: Transforming our world: the 2030 Agenda for Sustainable Development. It has an objective no smaller than its title would indicate. In 17 goals and a whopping 169 targets, the UN intricately defines what we still need to undertake in order for everyone to live a dignified, equal, prosperous and peaceful life by 2030.
From the onset, the UN has embraced the role of digital innovation as one means to achieve the sustainable development goals. Newer, faster and — simply put — better solutions are needed to make progress in time. António Guterres, Secretary-General of the UN, even declares:
"Without innovation, there is no way we can overcome the challenges of our time"
Clearly, digitally networked technologies are seen as the game-changer that can do no less than save our planet and its people. But how does this look in reality? What exactly can and will technology allow us to achieve?
One of the digital technologies that social innovators are putting their hope in are distributed ledger technologies, most prominently Blockchain. Already in 2009, when the cryptocurrency Bitcoin was released on the first Blockchain protocol, enthusiasts understood it as the end of the financial sector as we knew it. An earthquake of zeros and ones to rid us of the centralised banking system. This assumed power and the hope in Bitcoin's underlying technology is what practitioners in sustainable development now want to apply to the 2030 Agenda.
Blockchain is, simply put, a database technology. Contrary to traditional databases, however, it registers transactions and stores them across a network of computers. Instead of a single original record, each computer holds an identical copy of all transactions on the Blockchain. As such, the data is distributed and decentralised. Additionally, this network can only append further transactions agglomerated into blocks of data when all computers reach consensus on the validity of each and every transaction in the block. By irrevocably linking and timestamping the blocks, the data becomes immutable and trackable.
Thanks to its decentralization, immutability and traceability, Blockchain has, especially in 2018, experienced widespread popularity. New project ideas — of which many are indexed in the PositiveBlockchain.io database — sprung up as if a long winter was over. No wonder. Many past hopes for the internet which didn't materialise over the past three decades got bundled into this new technology. The dream of a new and equal world has been reborn in the tech world and easily combines with the sustainable development goals' promises of a better future.
Unfortunately, too many Blockchain-based ideas still never make it past a proof-of-concept or ideation stage. Often, their setup, focus or objective are neither aligned to the real-world problems we face nor feasible in technical scope. For project planners, influenced by ideologies and hopes in a promising technology, it is just too easy to lose the grip on reality. For exactly this reason, we took some time at our Lab to dissect what's feasible and relevant in the scope of sustainable development and Blockchain technology. For over a hundred potential use cases, we asked ourselves:
What added value can the Blockchain technology offer?
How is this relevant to the sustainable development goals?
Is this use case feasible from a technological, economic and legal perspective?
What challenges can hinder a potential implementation of Blockchain technology in this case?
Is there sufficient possibility for backing or sponsoring of the use case within the development sector?
As a result of scrutinizing each case with these five questions, we are now able to validate the 15 most promising Blockchain use cases for sustainable development. These 15 cases are Supply Chains, Financial Services, Energy Markets, Trade Facilitation, Taxation, Social Impact Bonds, Digital Identity, Education Credentials, Data Market Places, Journalism, Land Registry, Public Procurement, Parametric Insurance, Climate Accountability and Water Management. (Our poster provides a handy summary of the assessment.)
An example: In trade facilitation, Blockchain can be used to improve the integrity of information and reduce the common asynchronicity of trading documentation and goods. Ultimately, this can decrease the time and cost for clearing goods at customs, accelerating international trading overall. According to the Addis Ababa Action Agenda, international trade is understood as a key facilitator for inclusive economic growth. Hence, this use case offers relevant benefits under sustainable development goal 1: to reduce poverty.
So what now? Across the spectrum of economic, social and environmental issues, each illustrated use case could benefit from the application of Blockchain technology. As such, we wanted to open up the below overview to the broader world of tech enthusiasts, developers, entrepreneurs and development practitioners. We believe that this overview, be it as guidance or inspiration, can help all of us in ensuring that the ideas we pursue are grounded in an informed and realistic approach.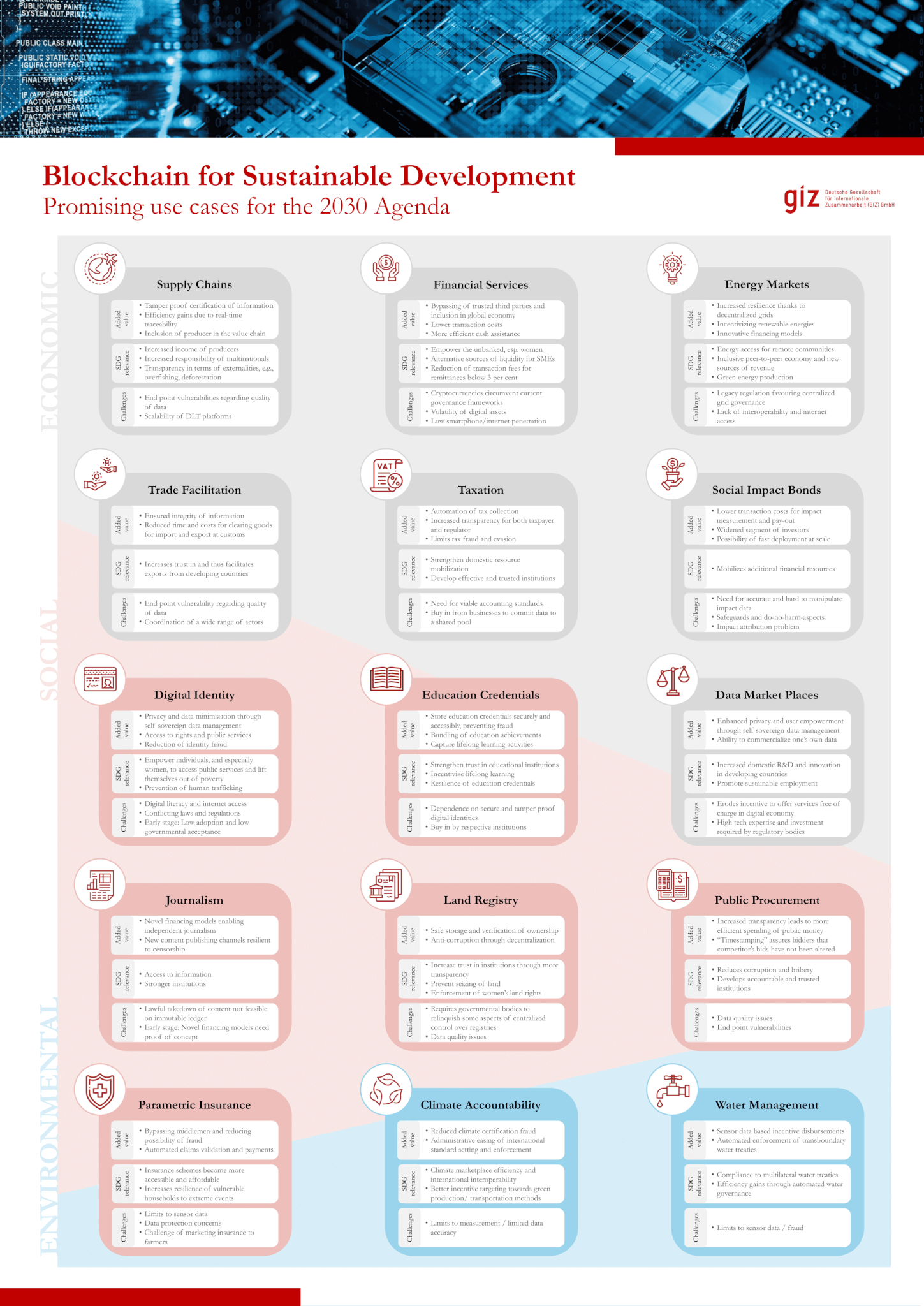 About GIZ Blockchain Lab
As a federally owned enterprise, GIZ supports the German Government in achieving its objectives in the field of international cooperation for sustainable development. The Lab serves as GIZ's honest broker, assessing the feasibility and impact of Blockchain and other innovative solutions applied to accelerate the 2030 Agenda and the sustainable development goals. Via our new series on Medium we will share our ideas, perspectives and initial results from Blockchain-based and other innovative projects.