Our next Blockchain for Good meetup will look at one of the most promising use case of blockchain: supply chains – and their sustainability.
About this Event
Supply chains are one of the most interesting and promising use-cases of blockchain technology, which can revolutionize global trade and bring a positive impact to the planet and the lives of people. Blockchain offers tamper proof certification of information that can help combat the counterfeit goods industry (e.g. drugs, which are a deadly pandemic in Africa and India). At the same time blockchain technology can make supply chains transparent and let companies track the minerals used for the production of electronics, batteries etc. It can therefore help fight child labor or slavery, while also protecting environment (e.g. overfishing or deforestation). Blockchain can also transform the food supply chains by empowering local producers through the traceability of food, which can also benefit consumers.
During this meetup we will explore projects that are already in operation, discuss their impact, and how this can be measured.
AGENDA:
18:30 – Doors open
18:40 – Welcome note – Maciej Bulanda, Positive Blockchain, Impact Hub Blockchain Tribe
18:45 – What are positive blockchain projects? – Lucas Zaehringer, Positive Blockchain founder
18:55 – Introduction to Supply Chains – Joséphine Quioc, Independent consultant to the GIZ
PROJECT PRESENTATIONS (+Q&A's)
19:10 – Minespider – Ella Cullen
19:25 – CircularTree – Gunther Walden
19:40 – The GoodChain Foundation – Ricardo Garcia
5 min break
20:00 – PANEL DISCUSSION between blockchain projects (as above) & experts.
Moderation: Darina Onoprienko (Evertrace),
Experts: Joséphine Quioc (independent consultant), Julia Otten(GermanWatch)
20:30 – Questions from the audience
21:00 – Networking & drinks
21:30 – Event concludes
This event is organised by Positive Blockchain – Impact's Hub Berlin Blockchain Tribe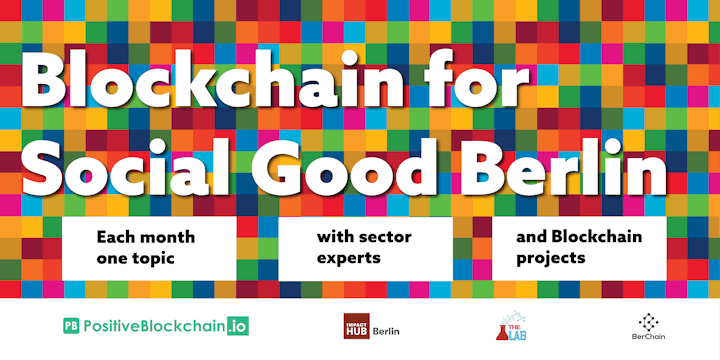 What is the idea behind Blockchain for Good meetups?
We created Blockchain for Good meetups in order to bring together Berlin's two distinct, large communities: tech and the social sector in a mutually beneficial way. We want to open up the conversation about blockchain to new audiences. Each month we explore a different topic (e.g. digital identity, financial inclusion, democracy, energy) through short project presentations and an open panel discussion, focusing on key challenges and opportunities in that area.
Blockchain for Good meetups are curated by Positive Blockchain in partnership with BerChain, GIZ Blockchain Lab, and Impact Hub Berlin.