Do you have a technical blockchain challenge to solve in your impact project?
Submit your challenge before the 17/08 and get hackers to work on a solution at the Web3 Summit in Berlin on the 19–21/08!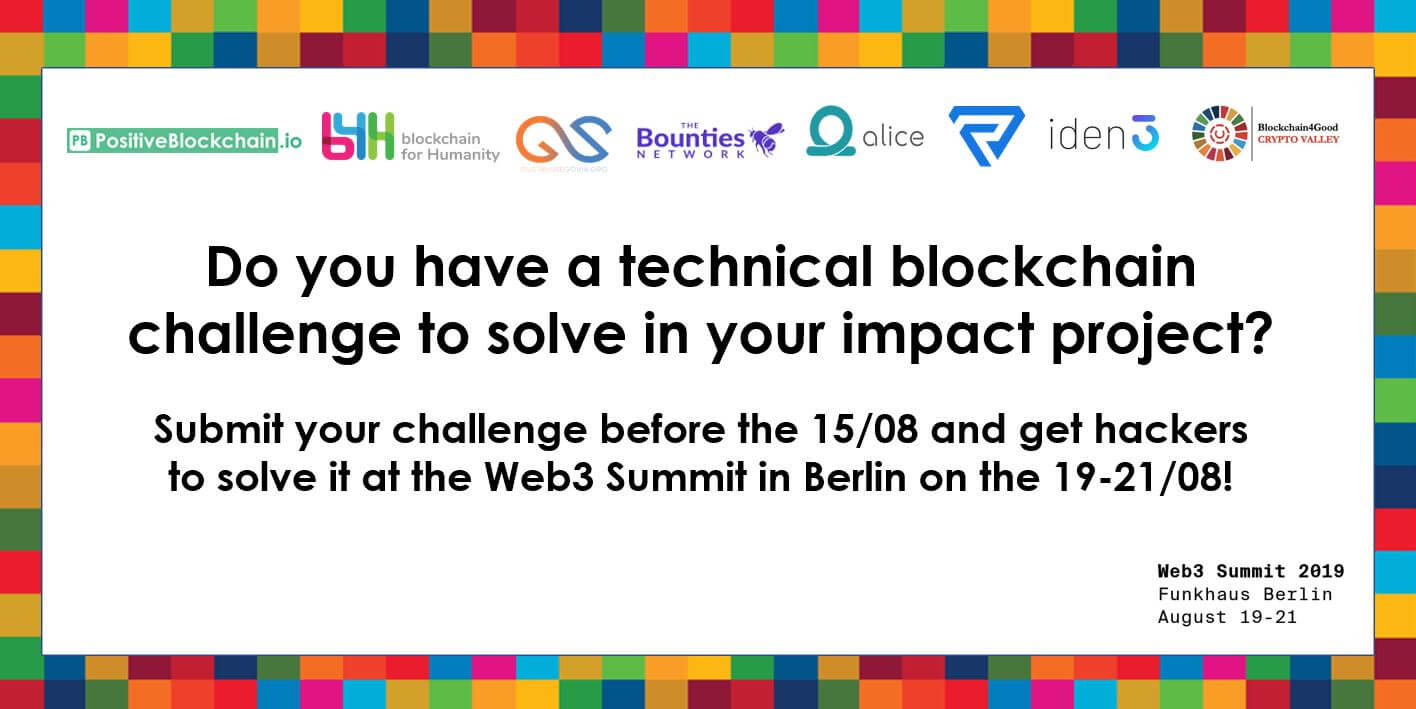 What is the Web3Summit ?
Web3 Summit is a three-days event organized around a single rallying call: to facilitate a fully functional and user-friendly decentralized web. Every year the devs and researchers working on lower level protocols and others interested in the latest developments in the decentralized web come together for an immersive and collaborative gathering focusing on the Web3 technology stack. It includes: P2P protocols, platform neutral computation language, data distribution protocols, blockchains, transient data/messaging; encrypted storage, protocol-extensible developer APIs.
It is an open and collaborative space where the community can create their own programming. Web3 Summit will have space available for workshops, presentations, AMA sessions — both intimate and large-scale, chill-out rooms, and most importantly, a large hackerspace, where you can host a hackathon, whiteboard some ideas, present to other teams, and get real work done.
What is the Coalitions4GOOD?

The Coalitions4GOOD Node is one of the hackerspace sessions at the Web3Summit in Berlin, co-organized by Blockchain4Humanity, PositiveBlockchain, The Bounties Network, Alice, Redeemeum, Iden3 and BC4G Crypto Valley. It will focus on solutions that can help solve critical problems for humanity that result from the lack of transparency, inclusion and empowerment for many in the developing countries.
Time to submit YOUR challenge
We invite all impact project entrepreneurs, individuals or organizations to submit their technical challenges. We'll display them during the event so that the hackers can connect with you and help you during and/or after the event!
Some challenges we are accepting:
You have a technical need related to blockchain, web, tokens, cybersecurity, development, decentralized governance
Your organization has identified a social challenge which you are trying to solve through creative ideas involving emerging technologies

You are looking for developers, designer and other technical staffs to work on your projects during or after the event

You are in early-stage development of your product/service and need to review your work
Be creative, be pragmatic! The hackers may form groups to work collaboratively on your challenges at the Coalitions4GOOD node, or can also connect with you after the event!
Feel free to contact us at hello -at- positiveblockchain.io if you have any request 🙂